We are excited to announce that we were featured in the Hopkinton Independent's recent issue!
Check it out: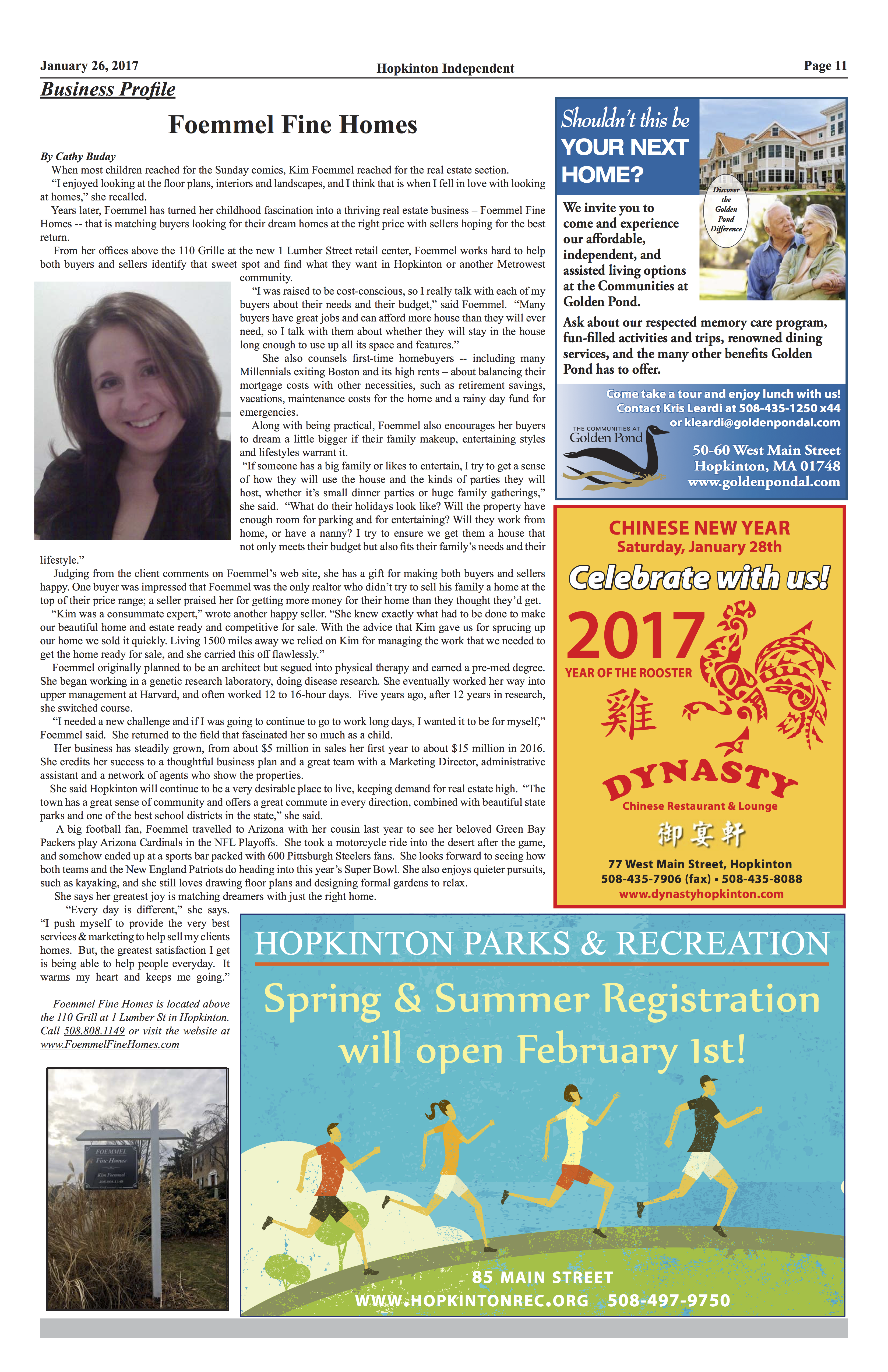 By Cathy Buday
When most children reached for the Sunday comics, Kim Foemmel reached for the real estate section.
"I enjoyed looking at the floor plans, interiors and landscapes, and I think that is when I fell in love with looking at homes," she recalled.
Years later, Foemmel has turned her childhood fascination into a thriving real estate business – Foemmel Fine Homes -- that is matching buyers looking for their dream homes at the right price with sellers hoping for the best return.
From her offices above the 110 Grille at the new 1 Lumber Street retail center, Foemmel works hard to help both buyers and sellers identify that sweet spot and find what they want in Hopkinton or another Metrowest community.

"I was raised to be cost-conscious, so I really talk with each of my
buyers about their needs and their budget," said Foemmel. "Many buyers have great jobs and can afford more house than they will ever need, so I talk with them about whether they will stay in the house long enough to use up all its space and features."
She also counsels first-time homebuyers -- including many Millennials exiting Boston and its high rents – about balancing their mortgage costs with other necessities, such as retirement savings, vacations, maintenance costs for the home and a rainy day fund for emergencies.
Along with being practical, Foemmel also encourages her buyers to dream a little bigger if their family makeup, entertaining styles and lifestyles warrant it.
"If someone has a big family or likes to entertain, I try to get a sense of how they will use the house and the kinds of parties they will host, whether it's small dinner parties or huge family gatherings," she said. "What do their holidays look like? Will the property have enough room for parking and for entertaining? Will they work from home, or have a nanny? I try to ensure we get them a house that not only meets their budget but also fits their family's needs and their lifestyle."

Judging from the client comments on Foemmel's web site, she has a gift for making both buyers and sellers happy. One buyer was impressed that Foemmel was the only realtor who didn't try to sell his family a home at the top of their price range; a seller praised her for getting more money for their home than they thought they'd get.
"Kim was a consummate expert," wrote another happy seller. "She knew exactly what had to be done to make our beautiful home and estate ready and competitive for sale. With the advice that Kim gave us for sprucing up our home we sold it quickly. Living 1500 miles away we relied on Kim for managing the work that we needed to get the home ready for sale, and she carried this off flawlessly."
Foemmel originally planned to be an architect but segued into physical therapy and earned a pre-med degree. She began working in a genetic research laboratory, doing disease research. She eventually worked her way into upper management at Harvard, and often worked 12 to 16-hour days. Five years ago, after 12 years in research, she switched course.
"I needed a new challenge and if I was going to continue to go to work long days, I wanted it to be for myself," Foemmel said. She returned to the field that fascinated her so much as a child.
Her business has steadily grown, from about $5 million in sales her first year to about $15 million in 2016. She credits her success to a thoughtful business plan and a great team with a Marketing Director, administrative assistant and a network of agents who show the properties.
She said Hopkinton will continue to be a very desirable place to live, keeping demand for real estate high. "The town has a great sense of community and offers a great commute in every direction, combined with beautiful state parks and one of the best school districts in the state," she said.
A big football fan, Foemmel travelled to Arizona with her cousin last year to see her beloved Green Bay Packers play Arizona Cardinals in the NFL Playoffs. She took a motorcycle ride into the desert after the game, and somehow ended up at a sports bar packed with 600 Pittsburgh Steelers fans. She looks forward to seeing how both teams and the New England Patriots do heading into this year's Super Bowl. She also enjoys quieter pursuits, such as kayaking, and she still loves drawing floor plans and designing formal gardens to relax.
She says her greatest joy is matching dreamers with just the right home. "Every day is different," she says.
"I push myself to provide the very best services & marketing to help sell my clients homes. But, the greatest satisfaction I get is being able to help people everyday. It warms my heart and keeps me going."