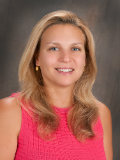 Julia is a truly one of kind real estate professional servicing the Boston MetroWest area.

Julia brings many years of real estate experience, deep market insight, unique local area knowledge, and access to a wide network of industry professionals having lived and worked in the area for most of her life. Julia specializes in helping buyers, sellers and relocating families to settle in the area, while delivering superior negotiation skills, dedication to making the deal work, and a relentless drive to achieve her client's goals.

What makes Julia one of a kind and the right choice for your real estate needs:
1) Every client deserves a unique and fulfilling real estate experience. Clients often are made to feel like a transaction when engaging with the large real estate firms whose agents are conflicted by the volume expectations of their firms. With Julia, you will receive a truly deeply personal and unforgettable experience from start to closing.

2) For those moving into the area from outside the region, Julia brings a unique understanding of what it means to move your family having lived for several years in various countries in Europe, experiencing 5 different moves while on assignment with her family.

3) Fluent in the Russian language, Julia provides a unique cultural match for those with a similar background and perspective. This unique position enables Julia to truly appreciate your challenges while professionally navigating the local real estate process and norms.

After graduating from the University of Massachusetts at Amherst, Julia embarked on a career as an Actuary. With a decade in the industry, Julia turned her attention full time to her family, which includes 2 beautiful children and 1 golden doodle puppy named "Ruby."

Many of Julia's current and existing clients will be excited to share their experience at your request.