4 Tips for Updating Your Kitchen on a Budget
Whether you've been living in your home for a few years, or just bought a fixer upper, you may be itching for a kitchen update. There can be so many things on your to do list, it may seem nearly impossible to complete them all on a budget. The average kitchen remodel costs nearly $20,000—a figure that is far beyond the reach of the average family on a budget. Instead of doing a full kitchen remodel, consider taking advantage of some of these simple and affordable updates that will not break the bank.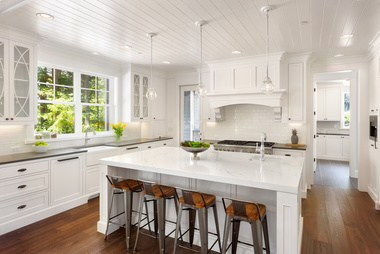 1. Replace Outdated Light Fixtures
One of the most obvious signs of age in your kitchen is a dated light fixture. A brightly colored pendant light will give your kitchen a more modern look. These can be found online at surprisingly affordable prices. Taking some time to shop around is well worth your time.
2. Install New Handles or Pulls for Cabinets and Drawers
Cabinet fixtures come in a wide range of colors and styles that include everything from traditional metal handles, such as copper or brushed nickel to trendy styles like handles that resemble tiny silverware. Replacing your cabinetry hardware is a quick, easy, and affordable way to give your kitchen a facelift. Check out our blog on kitchen hardware trends for inspiration!
While some people love trendy designs, carefully weigh your options before settling on something unusual. You might like it now, but how will you feel about it a year from now? You will not want to spend money replacing the handles again if you get tired of them or if the trend goes out of style.
3. Repaint Your Cabinets
If just replacing the hardware is not enough, consider repainting the entire row of cabinets. For the cost of a can of paint and a few hours of your time, you could have your kitchen cabinetry looking as good as new. Brand-new cabinets can be a costly upgrade, but freshly painted cabinets are almost as good at a fraction of the cost, and much easier to accomplish!
4. Remove Cabinet Doors
If repainting your kitchen cabinets does not appeal to you, consider removing the doors entirely. Open-faced cabinets can instantly give your kitchen a more modern look. The one drawback to this strategy is that you will need to keep the contents of your cabinets neat and tidy in order for it to work. For this reason, many designers use open-faced cabinets on the upper levels and traditional closed cabinets on the lower levels.
If you're in need of some help with design ideas to revamp your home, call Kim today at 508.808.1149.