3 Trends in Kitchen Hardware to Keep an Eye On

You don't have to transform your entire kitchen to feel like its been upgraded. It's as simple as updating small things, like the knobs on your cabinets or the handles on your drawers. It'll be a new kitchen feel for a fraction of the cost. However, choose your new hardware wisely. Here are 3 trends in kitchen hardware to keep an eye on.

1. Artsy knobs
The great thing about the term "artsy" is that it's totally up to your interpretation. You can take your pick of colorful knobs, varying sized knobs, and knobs of many different styles. Got a theme for your kitchen? Go all out by getting knobs that matches your vision.
Whatever your method of madness, personalize your kitchen in the subtlest and classiest of ways so you can impress guests. Consider taking a trip down the knob aisle at Home Depot or Lowe's for inspiration, or there's always good ol' Google with thousands of options.
2. Bar handles
If you're going for a minimalistic vibe, these handles are for you. They will make your kitchen seem more modern and sleek. They're not only a great design for looks, but also for utility. Running the length of the drawers, you'll never miss the handle, even when you're totally encapsulated by a recipe.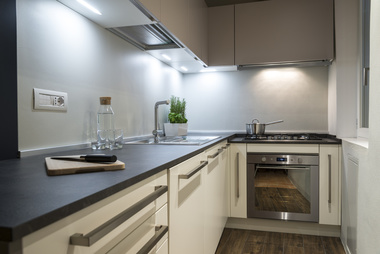 3. Finger handles
Although they may look like it, finger handles aren't actually tiny shelves for mice (knock on wood that there aren't really mice in your kitchen). These flat, stainless steel handles work great for the lower, base cabinets in your kitchen. Just slip a finger or two under the small lip of the handle to open your cabinets.
They look great and they're completely functional. No more bending down to open a cabinet just to discover the pot you were looking for wasn't even in there.
Pro tip: Updating the hardware in your kitchen is a great way to spruce up your kitchen before showing your house to prospective buyers.
When you're ready to sell your home, give us a shout. We're here to help. Call Kim at 508.808.1149